It seems Larry Ellison is adding yet another notch to his Carbon Beach belt.

​​​​​​​An entity tied to the billionaire investor's private equity firm has purchased a 7,700-square-foot, five-bedroom home in the prestigious Malibu enclave for $48 million, The Real Deal has learned.

​​​​​​​Ellison, the world's fifth richest person, already owns at least nine houses on the 70-house stretch known as "Billionaire's Beach."

​​​​​​​The seller was Lissette Ackerberg, the widow of real estate developer Norman Ackerberg.

​​​​​​​Ackerman made headlines in 2013 when she settled a decade-long legal battle with the California Coastal Commission over public right of way to the same beach. As part of the settlement, she had to remove concrete walls that she and her late husband had built to keep people off the beach and pay $1.1 million to the Mountains Recreation and Conservation Authority. She also agreed to pave a path to the beach next to her property.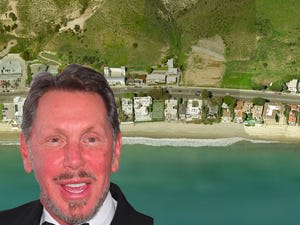 Alberto E. Rodriguez / Getty Images, Bing Maps

Ackerberg appears to be leaving Malibu altogether. She's snagged herself a 24th floor condominium at the Carlyle Residences on Wilshire Boulevard in Westwood, records show. She paid $15 million, or just under $2,600 per square foot for the apartment.

Meanwhile, Ellison has become the de-facto king of Malibu. He and Ed Nobu Matsuhisa, of Nobu sushi fame, recently converted the historic Casa Malibu Inn into a high-end Japanese-style hotel. Ellison purchased it for $20 million in 2007.


Source: