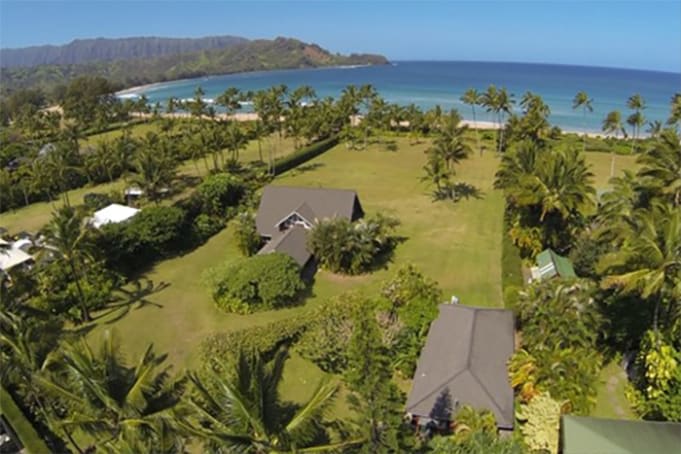 BUYER:
SELLER:
LOCATION: Hanalei, Kauai, HI
PRICE: $16,200,000
SIZE: 3,792 square feet, 7 bedrooms, 4 bathrooms

​​​​​​​YOUR MAMA'S NOTES: Though she had to come down almost 50% off the in-hindsight preposterously optimistic , Julia Roberts dumped an historic ocean-front estate on postcard-perfect Hanalei Bay on the Hawaiian Island of Kauai for $16.2 million and according to the buyer is none other than "The Bachelor" and "The Bachelorette" creator Mike Fleiss and his former Miss America wife Laura Kaeppler.
The slightly more than two acre spread, which was identified in marketing materials as the "Faye property" after prominent sugar plantation tycoon Hans Peter Faye who purchased the property in 1915, has 213 feet of knock-your-speedo-off scenic and couldn't-be-more-prime beach frontage. The two humble but charming self-contained bungalows on the property together span 3,792 square feet and provide a total of seven bedrooms and four bathrooms. The larger, two-story main residence has six bedrooms and three bathrooms — not to mention a convenient outdoor shower for rinsing off the salt and sand — while a smaller bungalow has another bedroom and bathroom. No word on Mister Fleiss's plans but marketing materials indicated that "Building on the property may be permitted for up to 9,000 sf, allowing for additional structures" and a swimming pool.

As it turns out, this isn't the first time Miz Roberts has sold one of her homes to a high-profile person in the entertainment industry. In October 2005 she sold a New York City apartment for $4.1 million to — who, in turn, sold it in July 2014 for — and in August 2010 the "Erin Brockovich" and "August: Osage County" star sold a two-residence compound on two side-by-side lots on a walk-street in Venice, CA, for $3,000,000 to Tim Robbins. Even with the recent sale to Mister Fleiss, Miz Roberts and her husband, Matthew Moder, still preside over a fat and no-doubt hugely expensive to maintain portfolio of residential properties that include a much more secluded ocean-front hideaway near Hanalei that property records and other online resources indicate was acquired in two contiguous 2009 transactions that totaled $9.3 million. Stateside the couple have long owned a multi-acre bluff-top spread in the Point Dume Area of Malibu, bought in 2003 for $9.5 million, where they custom-built a sprawling Craftsman-style mansion and last year, after a legal dispute with the sellers, they paid for a fixer-upper property across the street. They also have a nearly 100-acre ranch near Taos, NM, where they were married in 2002 and even though last November (2015) they sold a 2,400-square foot New York City penthouse for $5.35, impressively well above its , they continue to keep a substantial real estate foothold in the Big Apple with three apartments — two of them contiguous, one on top of the other, and the third, presumably for staff or guests, located on a lower floor — in a distinguished building in the Gramercy Park 'hood.


As for Mister Fleiss, he's certainly no stranger to the property gossip columns or the Hawaiian real estate scene. Last year ye sold a lavishly remodeled, never lived-in estate on 7.33 bluff-top-acres on the North Shore of Kauai for about $11.4 million — it was — and earlier this year he shelled out for a modest if still pretty pricey 1,285-square-foot 1970s beach cottage on a 23,500-square-foot beachfront parcel just outside of Hanalei. Back in Los Angeles, the reality television honcho, who also produced "The Cougar" and "High School Reunion" programs, owns an approximately one-acre cliff-top property with a four-bedroom and 3.5-bathroom Mediterranean ranch house transformed in to a modern-minded tropical oasis on Malibu's Point Dume that he snatched up in January of this year (2016) for $13.8 million.

​​​​​​​Listing photos: